Mode of operation of inductive sensors
How do inductive sensors work?
Inductive sensors are contactless sensors designed for the detection of (conductive) metal objects. How they work: Inductive sensors operate on the basis of a magnetic field that is generated at the front of the sensor in an open magnetic circuit. The detection principle is based on the damping (attenuation) of the magnetic field by the approaching metal object. The amplitude of the internal resonant circuit is reduced by damping until a threshold is achieved and the sensor outputs a switching signal.
---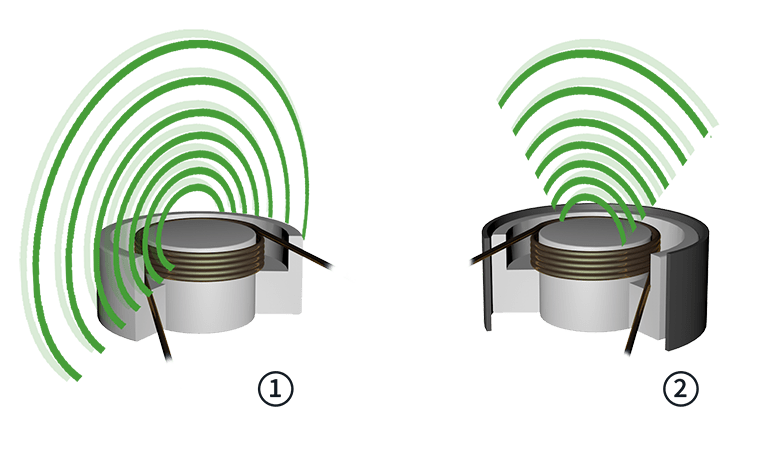 The functional principle
The principle of inductive sensor technology is based on an electromagnetic alternating field created via a copper coil embedded in an open pot core made of ferrite. An resonant circuit is created using the capacitor. An electrically conductive metal located within a certain range in front of the sensor causes strong attenuation of the eddy currents of the magnetic field. These changes in the oscillation amplitude are detected by the sensor and the sensor is switched. The special feature of sensors which can be installed flush is the additional outer metal ring which surrounds the coil. This shields the alternating field and bundles it at the front.
---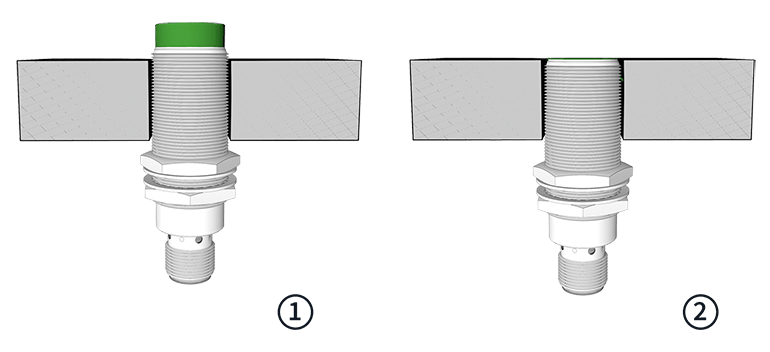 ---
Observance of free zones
Free zones refer to areas around the sensor which must be kept free of metallic materials in order not to compromise with the operating principle of the device. With inductive sensors a distance of at least three times the nominal sensing range must be maintained between a metallic material and the sensing face. The correct installation of sensors for non-flush mounting also requires that there is no interference material within a displacement less than the diameter of the detection face.
---
---
The sensing range of inductive sensors
The distance at which inductive sensors switch is referred to as the sensing range. Depending on the approaching metal, a correction factor must be applied for the majority of inductive sensors to reduce the
sensing range
. The following table displays the factors of various metals for the majority of inductive sensors:
| Material | Factor | Exemplary sensing range |
| --- | --- | --- |
| Steel | 1.00 | 6.00 mm |
| Cast iron | 0.93 ... 1.05 | 5.58 ... 6.30 mm |
| Stainless steel | 0.60 ... 1.00 | 3.60 ... 6.00 mm |
| Nickel | 0.65 ... 0.75 | 3.90 ... 4.50 mm |
| Brass | 0.35 ... 0.50 | 2.10 ... 3.00 mm |
| Aluminium | 0.30 ... 0.45 | 1.80 ... 2.70 mm |
| Copper | 0.25 ... 0.45 | 1.5 ... 2.70 mm |
For some time now,
Factor 1 sensors
have been available that offer an identical sensing range for all metals (Factor 1). The
switching frequency
of inductive sensors usually ranges between several hundred and several thousand switching operations per second. Inductive sensors therefore have a very fast reaction time and can be used for speed monitoring, for instance.
Inductive sensors are a type of position sensor. These sensors come into play where it is necessary to register the position of a metallic object within a range of a few millimetres to several centimetres. The actual registration range depends on the sensor model. In almost all automated processes, sensors are essential to provide the control unit with information. Inductive proximity sensors from autosen provide the necessary signals on positions and end positions and serve as a pulse generator for counting tasks or rotational speed registration. The inductive sensors are used in very varied applications with differing requirements regarding the range and protection rating.
Our inductive sensor classes
Inductive sensors of autosen's High Resistance Class
are robust and reliable, have a broad operating temperature range and thanks to the high protection rating of up to IP69k they can also be used for more demanding applications, including difficult industrial environments.
In addition, autosen supplies inductive sensors with
full-metal housings
that are specially robust on account of their metal sensing faces. They have been optimized for use in the foodstuffs industry and in wet zones, so they are well able to meet the special requirements that apply in such environments. Inductive sensors with full-metal housings also withstand frequent cleaning procedures and fluctuating temperatures well.
Our
inductive Factor-1 sensors
are the problem solvers for almost all applications. They have the same sensing range for all metals (correction factor = 1 for all metals). They can also be used in challenging conditions because of the high protection rating of IP69k. The Factor-1 sensors are resistant to oils and lubricants and provide for a high degree of plant availability thanks to the high switching frequency.
Our
inductive sensors with IO-Link
can be configured and operated with an IO-Link master. Configurations such as normally open/ normally closed, p/n switching and many more can be set to your requirements and permanently stored. The sensor can even transmit the measured distance and diagnostic data via IO-Link. If you do not use IO-Link, the sensor can be used classically as a proximity switch.
Our
inductive miniature sensors
in cylindrical design Ø3 mm, Ø4 mm, M5 & Ø6.5 mm are particularly suitable for applications with limited space. They are therefore ideally suited for handling technology, robotics and many other applications with limited space.
 

Standard Class

High Resistance Class

With full-metal housing

Factor-1 sensors

Special features

-

Robust ad reliable, broad operating temperature range

Specially robust thanks to metal sensing faces, they withstand frequent cleaning procedures and fluctuating temperatures

Correction factor = 1 for all metals / identical sensing range

Protection ratings

IP 67

IP 67, IP 68, IP 69k

IP 69k

IP 69k

Areas of application

Suitable for standard applications without special environmental requirements

Also suitable for challenging applications

Also suitable for use in foodstuffs industry and wet zones

Also suitable for challenging applications

 
Inductive or capacitive sensors
They are ideally suited for position detection of metallic objects and small measuring ranges in the range of a few millimeters up to the two-digit centimeter range. However, inductive sensors are not suitable for detecting the position of non-metallic objects or when a longer range is required. In this case, capacitive sensors should be used, which detect objects in small measuring ranges independent of material and surface properties. If longer ranges are required, it is recommended to use ultrasonic sensors, which can also work with all materials and surface conditions, or optical sensors for non-transparent objects.


Advantages and disadvantages of inductive sensors
In comparison with mechanical sensors, inductive sensors have several advantages:
high switching frequencies

a specially high degree of switch point accuracy

and wear-free, contactless operation for registering all kinds of metal
Inductive sensors are ideally suited for use in harsh industrial environments:
they can withstand dust, moisture and vibrations

function without contact and wear-free and

still work properly even if the sensing face gets covered with material
Inductive sensors function consistently and reliably whether registering moving or stationary objects.

All the advantages of inductive sensors at a glance:
Reliable position detection for metallic objects and short measurement ranges

Contactless and wear-free operation

Exact measurement whether the object is moving or not

Insensitive to deposition on the sensing face

Insensitive to dust, moisture and vibrations
Broad operating temperature range

High protection ratings

High switching frequencies and high switch point accuracy

Higher sensing ranges

Short-circuit proof and proof against reverse polarity
Application examples for inductive sensors
In view of the many different types, inductive sensors can be used in a very wide range of applications and sectors. Their high protection ratings and robustness make them suitable for use in the foodstuffs industry, beverages industry and robotics.
Here are some examples:
Detection of moving machine components and objects that are to be processed

Counting metallic components in component feeding and conveying technology

Highly precise referencing of zero positions for moving parts (robotics)

Position monitoring
Stable drives

Machine tools

Hydraulic aggregates

and much more